Deadline: 3 March 2023.
Zimbabwe Prison and Correctional Services (ZPCS) Recruitment 2023
The Zimbabwe Prison and Correctional Services (ZPCS) intends to recruit Correctional Officers to vacancies that have arisen in the General Duties Section
Requirements
Applicants must be Zimbabwean Citizens without criminal record.
At least 18 years and not more than 30 years of age before May 2023
A minimum of 5 ordinary level passes including English language at grade C or better.
Physically and medically fit.
Applicants should be fit to complete a stipulated road run in specified times.
Successful applicants will be required to undergo a basic recruit training for a period not exceeding six (6) months.
In return, the Zimbabwe Prisons and Correctional Service offers;
A competitive salary
Annual Bonus
Pension Scheme
Free Medical Benefits
Generous Leave Conditions
Free uniforms
Free Accommodation
How To Apply
Only those candidates who meat the above selection criteria need to submit their applications addressed to the nearest ZPCS Provincial Headquarters where preliminary screening will be done and those successful advised accordingly.
Applications with certified copies of academic certificates, birth certificate and national registration identity card to be submitted not later than 03 March 2023 at any of the ten provinces of ZPCS listed below in picture format. The letters are to be addressed to the Staff Officer Human Resources ZPCS National Headquarters, 47 Mbuya Nehanda Street, Private Bag 7718, Causeway, HARARE.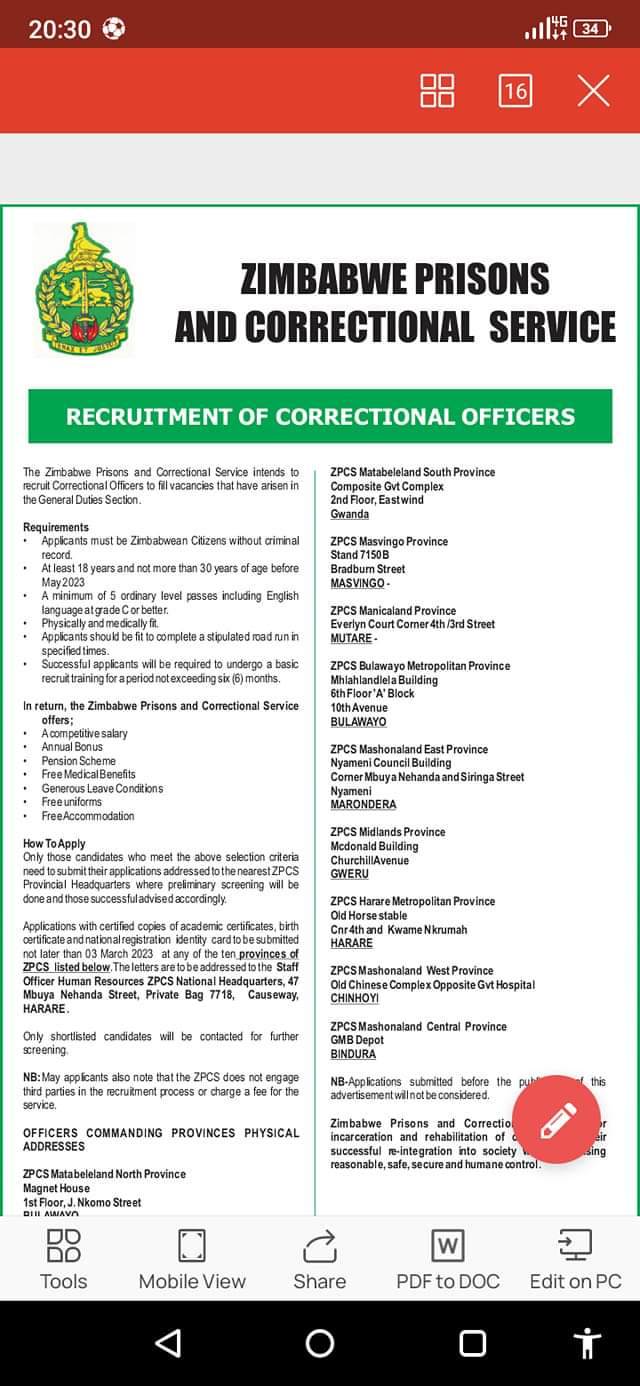 NB: May applicants also note that the ZPCS does not engage third parties in the recruitment process or charge a fee for the services.