Deadline: 26 July, 2022.
Wilmar Instrument Mechanician-Engineering Opportunities (REF: IMENM 04072022) for South Africans
Applications are now open for the Wilmar Instrument Mechanician-Engineering. Job purpose:
Ensure the safe operations of process control systems.
Resolve daily plant instrumentation and PLC/Software issues and complete root cause analysis
KEY RESPONSIBILITY AREAS:
To perform the asset care activities as required by the GMP systems and procedures, including accurate and Umeous feedback and documentation to all stakeholders
Ensure total adherence to all safety, health and environmental procedures and guidelines as well as all other company policies and procedures
Carry out instalations, defined checks, trouble shooting, required testing, repairs and modifications to Instrumentation and electronics equipment in accordance with specified instructions and Complete safety checks where required
To maintain and improve Existing PLC, SCADA systems and Instrumentation networks (hardware and software) and perform changes/modification as required
Be able to do fault finding and basic coding programming in Siemens PLCs and SCADA software.
Improve Automate all old manual processes
To assist in commissioning of modifications/projects
To ensure proper documentation of changes/modifications
Ensure availability of critical spares for all process control equipment.
Carry out planned and autonomous maintenance, to reduce unplanned maintenance and optimize availability
To calibrate, repair and maintain control gear instrumentation and associated equipment to ensure operation within set standards
Qualifications
Minimum N3 qualification with a Trade Test as an Instrumentation Technician
Experience – Minimum 1 Years' experience in a related field
Skills
Computer literate with knowledge of MS Office and maintenance software
Basic/Proven knowledge of PLCs (mainly Siemens S7, Alen Bradley, Beck Off DCS systems), ACDO drives and SCADA networks.
Intermediate PLC programming skills and thorough knowledge of operator interfaces
Practical, field problem solving experience with industrial communication methodologies (RS-232, A51, Profibus, Ethernet, Devicenet. HART)
Knowledge
Knowledge of the OHS Act (Safety Legislation) is essential
A preference will be given to South African residents and candidates from designated groups.
Interested applicants should please send their applications to [email protected]:wilmar-intl.com or hand deliver CV to the Human Resources Department.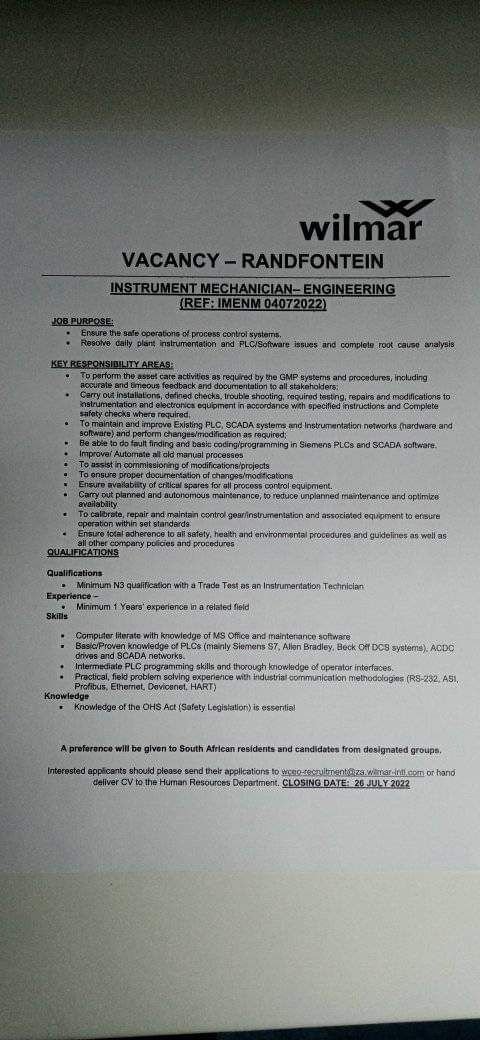 CLOSING DATE: 26 JULY 2022