Philippine Center for Investigative Journalism (PCIJ) Media Freedom Training Program On Investigating the 2022 Elections
The Philippine Center for Investigative Journalism (PCIJ) is offering a series of training-workshop on techniques to investigate the recently concluded 2022 elections and its results.
The training is open to mid-level journalists, educators, and development workers who recognize the important watchdog role of the media, academe, and civil society in investigating the conduct of elections and its consequences on governance. There's a need to expose winning candidates' possible conflicts of interests due to their reliance on donors during the campaign and push for electoral reforms in order to address issues such as the prevalence of political dynasties in the Philippines.
This application form will ask you to declare personal information which will only be used throughout the program; we will also require you to submit through this Google form a letter of motivation addressed to the PCIJ Training Desk. Applications are open until May 23, 2022 (Monday). PCIJ will immediately notify successful applicants to inform them about the next steps.
For further information, please contact our Training Desk at [email protected].
See Advert below: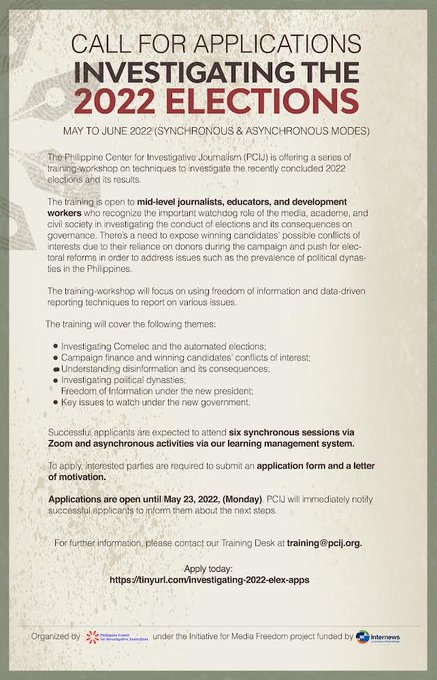 —
This training is under the Initiative for Media Freedom project funded by Internews.
Philippine Center for Investigative Journalism (PCIJ) Media Freedom Training Program On Investigating the 2022 Elections