Deadline: 4 July 2022.
Namibia Ministry of Justice Recruitment 2022 – (closes 4th July 2022)
In pursuing its mandate to provide legal services and access to justice the Ministry of Justice invites applications from dynamic, self-driven and motivated suitably qualified Namibian citizens to join our team in the following roles:
DIRECTORATE: PUBLIC PROSECUTIONS
1. Senior Legal Officer Grade 5 x4 posts
2. Senior Legal Officer Grade 5 x4 posts (POCA)
3. Legal Officer Grade 7 x15 posts
Address enquiries to: Ms Elizabeth Ameya-Shonghela, Tel (061) 280 5295 or Ms Lisa Mabuku (061) 280 5222
DIRECTORATE: LAW REFORM
4. Chief Legal Officer Grade 4 x1 post
Address enquiries to: Mrs Meriam Kapofi, Tel (061) 280 5245 or Ms Yolante Karunga (061) 280 5115
DIRECTORATE: CIVIL LITIGATION
5. Deputy Government Attorney Grade 3 x1 post (Re-advertisement)
Address enquiries to: Mr Salatiel Munghadi, Tel (061) 280 5212 or Ms Johanna Kapembe (061) 280 5270
For more information regarding these positions, kindly visit our following pages:
Website: www.moj.gov.na
Twitter: NamJustice1
Facebook: Ministry of Justice Namibia
Closing date: 4 July 2022
Applicants should note the following:
• Applicants within the Public Service must attach proof of confirmation of probation to their application for employment.
• Applicants with foreign qualifications must attach proof of evaluation of such qualifications from the L. Namibia Qualifications Authority (NQA).
• The activities of the Ministry of Justice are of strategic importance. Please be informed that a security
• clearance in respect of shortlisted candidates may be required at any time and your co-operation in that regard will be expected.
• Applicants who only partially complete and /or do not sign application forms, or who do not attach letters of confirmation of their probations in their current positions, will not be considered.
• Applicants in designated groups are encouraged to apply.
• Candidates with Curriculum Vitae which do not clearly indicate the years of experience and the exact type of working experience, will not be considered.
Please note: Only shortlisted candidates will be contacted and preference will be given to Namibian Citizens.
Hand delivered applications may be submitted at the following physical address:
Subdivision: Human Resources
Second Floor
Justitia Building, Independence Avenue (Between Zoo Park and Telecom)
or send to Private Bag 13302, Justitia building, Windhoek
FAXED APPLICATIONS WILL NOT BE CONSIDERED
See vacancy Announcement below: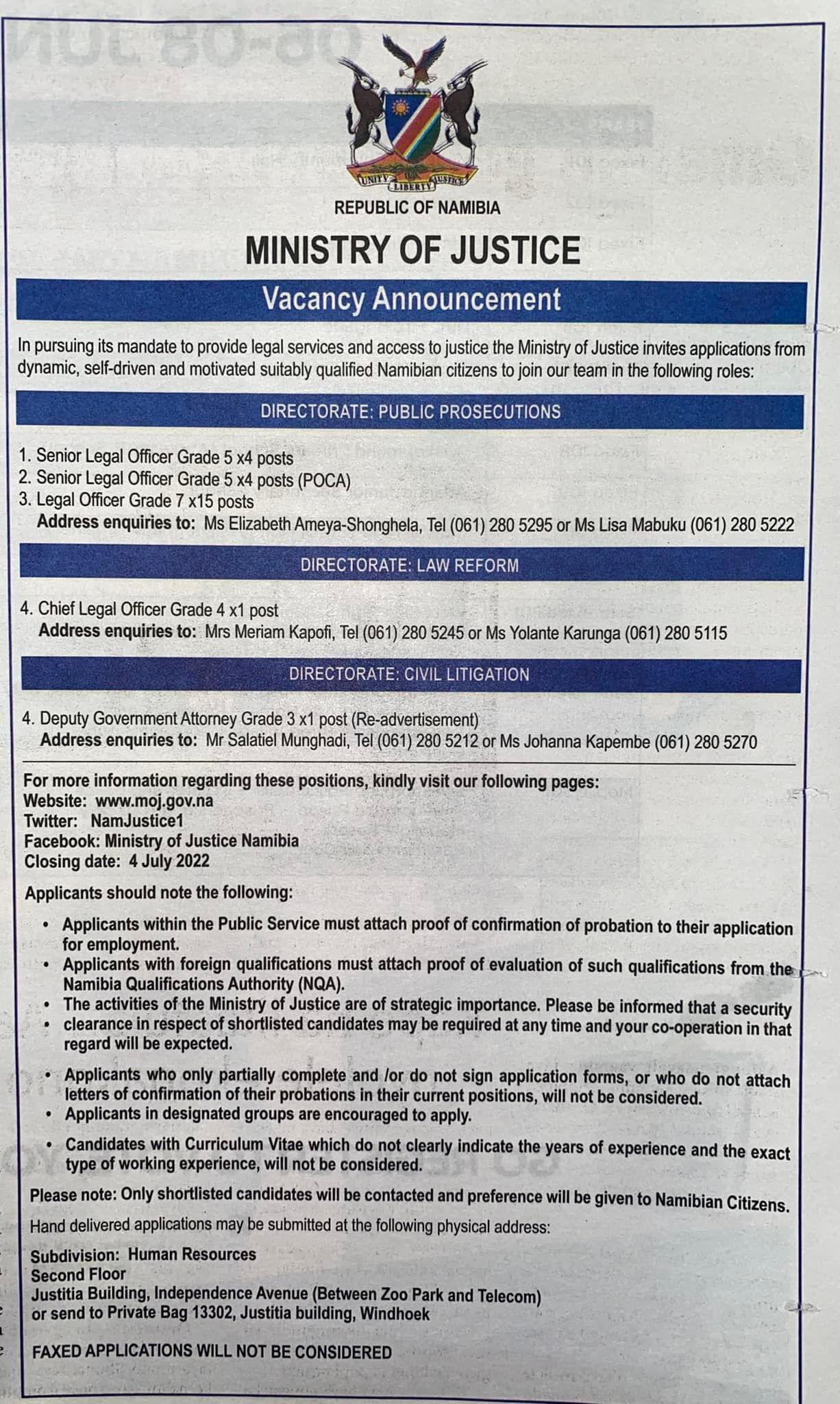 Namibia Ministry of Justice Recruitment 2022 – (closes 4th July 2022)